Digital Government Readiness and Maturity Indicator
Are governments digitally ready?
The Digital Government Readiness and Maturity Indicator measures whole of government digital services capability.
Whole of Government
Scoring of each jurisdiction based on key digital enablers and progress towards digital maturity
Impartial Assessment
Each evaluation is conducted under Intermedium's strict criteria
Recording Progress
Regarded as a key record of digital progress across jurisdictions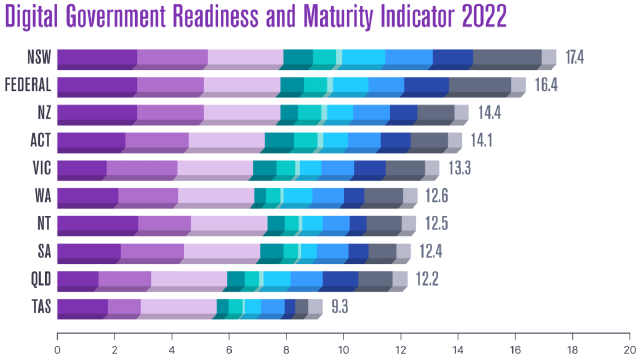 Download the Report
Transforming services for citizens
Intermedium publishes its Digital Government Readiness and Maturity Indicator Report out of a belief that the digital transformation of government services across Australia and New Zealand improves the well-being of citizens and maximises the use of taxpayer funds. 
Hear how your state scores and get a breakdown of each jurisdiction's performance across critical digital enablers.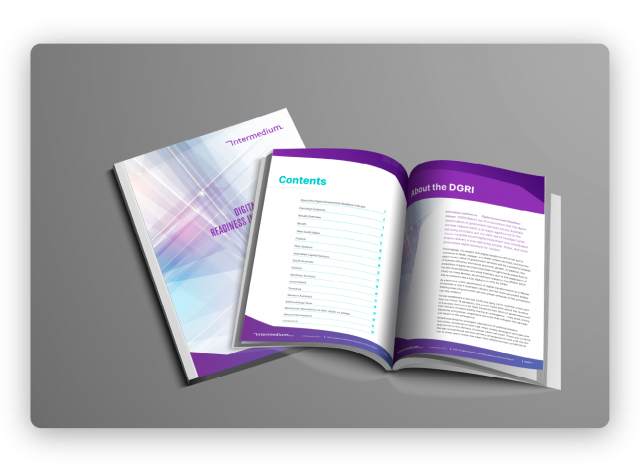 DGRMI 2022
Download a copy of the report
Assessing digital readiness and maturity
How do we make our assessment?
The DGRMI assessment is based on publicly available information which ensures a level playing field is maintained for all jurisdictions. Intermedium also invites jurisdictional input when evaluating governments under its strict criteria. 
Criteria include:
The existence of ICT strategies and policies
A robust approach to ICT governance
The existence of a WofG service delivery agency
Evidence of 'digital by design'
A User-driven approach to design
Data driven policy-making
Steps towards 'Government as a Platform'
Explore other reports
Measuring the progress of digital government
Explore Intermedium's range of readiness indicator reports to find out how ready ANZ governments are to deliver digital services. 
Readiness Indicator Series