Scout for leads from panels, procurement plans and expiring contracts
All the information you need to rapidly identify the ICT opportunities to pursue in the federal and state governments
Instantaneous
Search in real-time for government contracts that are up for renewal
Up-to-date
Current tender opportunities are kept updated on a daily basis
Informative
Agency and supplier leaderboards to easily identify prospective partners and competitors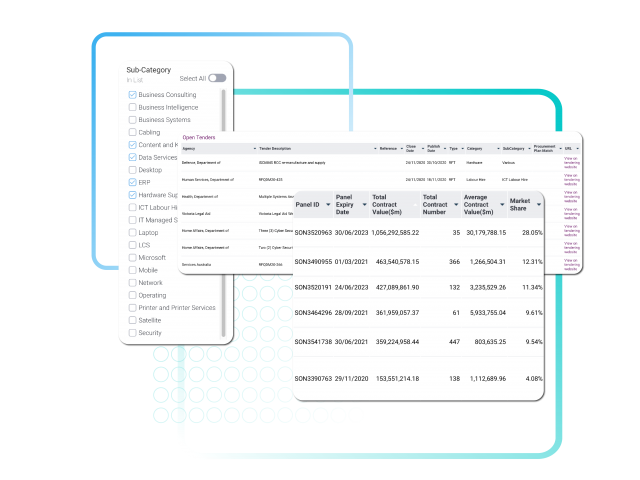 Position for contract renewals and get on the right panels
Scout IT provides you with the details of current contracts, open panels, open tenders and annual procurement plans - all viewable through online dashboards - to quickly identify opportunities for early agency engagement in the federal and state governments.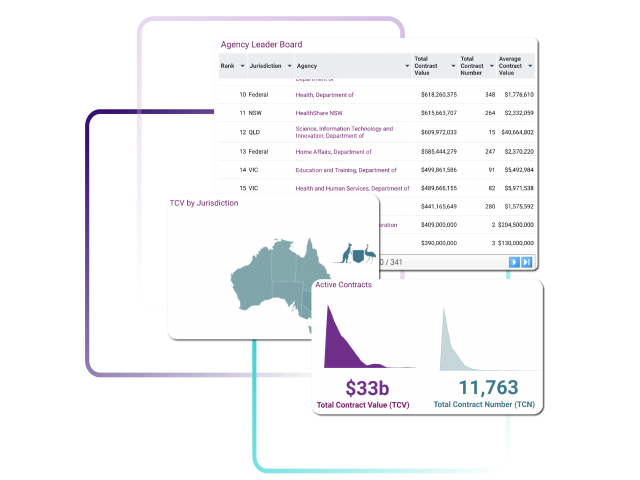 Determine the strategic alliances you may need to form
Easily identify suppliers on ICT panels to gain valuable insights regarding prospective partners to form strategic alliances with, as well as competitor profiles and the government markets they are strong in.
Request a demo
Win a greater share of the Federal and State government ICT markets
Search in real-time for contracts likely to be renewed at expiry and give yourself the most lead time to articulate your alternative solution to the agency. As a bonus, get alerted on daily tender opportunities for your jurisdictions of choice.